Rakes Report #87: Can't leave your dreams to chance or to a spirit in the sky (The Southern Cal Review)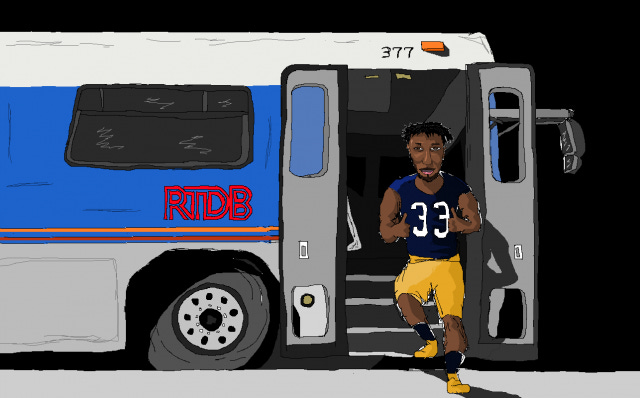 1) "There's no purpose at this point to continue to expose him to this."
Mike Tirico spoke those words with a little over ten minutes left in the game. He had just finished confirming that presumptive number one pick Sam Darnold, while having not sustained any significant injury, would not be returning to the game at the same moment Khalid Kareem sacked Trojan back-up quarterback Matt Fink. Darnold was pulled from the game with nearly a quarter remaining because Southern Cal was being massacred, the Irish defense showing no interest in relenting as it battered and bloodied any Trojan who had the misfortune to get in the way. USC came into the game ranked No. 11, but they were losing 28-0 at halftime and fell by a tally of 49-14, a final score somehow not really indicative of how one-sided this performance was despite being a margin of 35. The "this" Tirico was referring to was the glorious domination of the Fighting Irish, who throttled their rival physically, emotionally and schematically. There's a joy to this game, is there not?
2) We've spent a lot of time here wondering if maybe Notre Dame was perhaps just cursed in its inability to win the big game. They recruit at a top-12ish level and they churn out a lot of great NFL prospects and most seasons they win a fair number of contests, but they had fallen short so many times in the marquee match ups. Against Florida State and Clemson and Stanford and Ohio State and Texas* and Georgia, it made you question your belief system about how you build a successful football program. Was there just some hurdle they couldn't overcome? One that we didn't see? That, more importantly, Brian Kelly couldn't see?
* It seemed marquee at the time, at least.
Most of those demons and doubts were exorcised on Saturday night. It was the biggest margin for the Irish in a victory over the Trojans since 1966. It eliminated USC, who was No. 4 in the preseason poll, from playoff contention before the calendar turned to November. It showed the continued progress of a reclamation project that had begun the moment the final whistle sounded in the previous game against Trojans. I spent most of the offseason writing various versions of "This seems like exactly what you'd want a team that went 4-8 to do in order to get back to competing at a high level, but I don't blame anyone who wants to see it on the field." Well, you saw it on the field. It looks like 49-14 and the second string playing the fourth quarter and Montgomery Van Gorder taking the final snaps to salt things away. It looks like attempting a flea flicker up 28 in the final frame because you've already established you can run for 84-yard touchdowns so why not get creative in your knife-twisting. The Irish gave themselves a chance at another big game in the wake of the Georgia loss by playing one month of excellent football. When presented with one more opportunity at a statement win, they broke the door down.

We often talk about why we bother to follow this sport so closely and gamble so much of our happiness on it when more often than not the result is heartbreak. 49-14 is why we bother.
3) We need to acknowledge that USC made some mistakes that gave the Irish opportunities. The high snap to Darnold and the muffed punt and a dropped deep ball when it was just 14-0 are the primary examples, but we also must acknowledge that Notre Dame made them pay dearly every single time they blinked. Te'von Coney, who was sensational all night, didn't have to rip the ball away from Darnold on the Trojans' first offensive play, but he did. Drue Tranquill, who was also sensational all night, didn't have to be in perfect position to steal away the fumbled punt, he was. Nick Watkins didn't have to sky for that pick and the Brandon Wimbush didn't have to turn every turnover into a touchdown and the offense didn't have to immediately answer both of the Southern Cal scores before we had time to worry, but he did and he did and they did. They relished the opportunity to hit the Trojans, and Darnold would have been in just as much danger as a linebacker as he was taking snaps the way the Irish blockers were ragdolling USC. I was nervous through most of the third quarter, but I shouldn't have been because the Irish were getting eight yards a pop running up the middle in the first quarter, a grave omen for the Trojans having any chance at slowing the ground game in the second half.

(It's funny to think how terribly this game started for the Irish considering everything that happened after that opening series: A poor decision to bring the ball out of the endzone on a kickoff, a stuffed run, a misfire down the sideline and a dropped screen. But then Coney stripped Darnold and three plays later it was 7-0 and the Irish never looked back.)

4) "We've got a sad football team in there right now."

Clay Helton at the start of his postgame presser about the USC locker room. Why were they sad? A lot of it had to do with the defense, and I'm not even sure where to start with the accolades. Kareem had two sacks and if you were listing the best defensive linemen on the team you might not get to his name until your second hand. Jay Hayes, Jerry Tillery, Julian Okwara and Daelin Hayes were all great because that's what they do, but you had freshman Kurt Hinish, who hadn't played much as of late, blowing up a USC running play early. Watkins' pick was beautiful, and the safety play – the safety play we have worried about so much — was so thoroughly competent yet again at some point we might have to stop worrying. Shaun Crawford broke up an early third down attempt to keep momentum with the Irish. As mentioned above, Coney and Tranquill were excellent, and Nyles Morgan was a steady presence in the middle. The reserves were driving Trojan players into the ground with impunity, hopefully giving them lasting memories of their trip.
I do hate to break this to you, but Mike Elko is eventually going to leave to become a head coach somewhere because he is really really really good at this, but we should appreciate every moment he's in South Bend. What a defense.

(To cheer you up about that Elko bulletin, enjoy this video narrated by Jaylon Smith talking trash about the win that went live shortly after the game went final. They must have had him record it in advance which is excellent.)
5) "We were fighting for our dignity."

Trojan captain and middle linebacker Cameron Smith about what his team was trying to achieve by the end of the game. USC's defense was hit by a wave of injuries and the Irish offense showed no mercy for their misfortune, a decidedly unchristian act but one I'm hoping the priests on campus will forgive. Josh Adams scored three times and was just shy of 200 yards, while Tony Jones, Jr. looked like the guy we heard about in camp, showing a nice burst and laying people out on blocks. Kevin Stepherson was back in the fold, churning out two productive end arounds and snagging his first touchdown since the last time Notre Dame played Southern Cal. E Street Brown also had a fine touchdown catch to start the scoring, with Chip Long calling a magnificent game overall, leaning on his offensive line that continues to come through with gaping lanes.
And then there's Wimbush. He was only 9 for 19, but the 9 were effective and enough to keep the defense honest. The junior was also a terror on the ground, gliding for chunk plays whenever USC gave him an opening. (I love that most of Wimbush's 14 runs ended with him safely stepping out of bounds or into the end zone. More of those, please.) With Stepherson back, E Street potentially finding his groove and guys like Chase Claypool, Alize Mack and Durham Smythe chipping in, it is perfectly fair to expect this offense to keep getting better and better as we roll along. The Wolfpack defensive line is going to be a test on Saturday, but after witnessing the last six weeks, all you can say is just bring it. (This is also where I remind you that Wimbush has two more years of eligibility remaining after the conclusion of this season.)
6) As an aside, I'm really happy for and proud of both Stepherson and Mack. Both were hit with suspensions, both could have just left the team and traveled to warmer climates and schools with lighter academic workloads and less stringent rules enforcement, but they didn't. They stuck it out and now they're productive players on a team that's 6-1 with the potential to keep winning. Many times Notre Dame does not make itself easy to love, and I am always impressed when guys like Stepherson and Mack — and Jerian Grant, Kyle McAlarney and Everett Golson — take their (sometimes too severe) punishment and make it back. Hopefully Saturday night was just the start of the Stepherson Redemption Tour.
7) Some of the numbers from this game and this season are just staggering. Ronald Jones had scored a touchdown in 13 consecutive games and is considered one of the most dangerous tailbacks in the country. He had 32 yards on 12 rushes, didn't score, and left the game in the middle of the third quarter after Morgan hit him very, very hard. USC had 336 yards of offense, while Notre Dame had 377 yards rushing. At the completion of Saturday's contest, the Irish have allowed one (1) rushing touchdown through seven games while scoring 28. With Brandon Wimbush at the helm, the red zone offense has scored 24 touchdowns and two field goals on 26 trips to the red zone. The Irish have won five straight games by 20 or more points for the first time since 1966. No team has scored more than 20 on the Irish defense all season. What do you even say at this point.
8) "He's comfortable now…he does have a little bit of a loopy action, but he's very accurate with the ball."
Doug Flutie's quote immediately preceding Watkins' second quarter interception of Darnold. The NBC broadcast should be embarrassed for not pivoting from the "Darnold is the messiah" material they had prepared. Talking about the greatness of a quarterback that was shut out for most of the game just sounds ridiculous, even if he gets into a two-drive groove against a defense playing soft coverage. This isn't Darnold's fault, as he was just really good at football last year and happens to play for a marquee program, meaning fans (like the Jets faithful wearing custom jerseys during the preseason) and the media couldn't resist blowing things way out of proportion. Interested in finding out how the crew for the Trojans' game Saturday night against Arizona State covers the guy with the 38th best passing efficiency mark in the nation.
9) Win or lose against Southern Cal, NC State was always going to be a hangover game. There is no way to avoid going from the circus of a night game against your rival with scores of recruits* and program alumni on campus to a 3:30 start against a team coming off a bye, but I think things will be okay. Most of this week is going to be spent with the players hearing how good they are and how Notre Dame is now in The National Conversation and can make the playoffs if they just win out, but it should be relatively easy for the coaching staff to ground things via reminding everyone of last year's record, how the trip to Raleigh ended and the Wolfpack's ranking. It also helps, from a physical standpoint, that the starters got to rest most of the fourth quarter because Notre Dame beat USC 49-14. (As far as reinforcements, Kelly said Sunday that Dexter Williams would likely be a full go for Saturday and Greer Martini will be back at practice Tuesday.) In addition, I think guys like Tranquill and Mike McGlinchey might strangle anyone who takes this week of preparation lightly. Turns out the coaches selecting the captains early in order to help with the cultural overhaul might have been an okay idea despite the cornucopia of jokes about it that occurred at the time.
* Imagine being a recruit at that game and not wanting to go to Notre Dame. I get that it's not for everybody — I don't begrudge anyone who wants to avoid South Bend winters or having to do actual school work if you're focused on getting to the NFL — but seeing 49-14 on a perfect October day and getting to hang out with NFL success stories like Golden Tate, Theo Riddick and Nick Martin? That's the good stuff. If the Irish can finish this season strong, it could set them up for another half-decade of success. Just keep winning, baby.
10) One thing I loathe about college football is the insistence by most of the media and some fans to view every great play or performance in a big game through the prism of a "Heisman Moment." It's exhausting, and considering Heismans only go to running backs and quarterbacks it really limits the number of people who can have those Moments*. I say this because a few people wanted me to discuss Josh Adams for Heisman and I just cannot. This is in no way a slight to Adams, who is an incredible runner and seemingly great dude with a nice taste in both neck- and eyewear, but I don't have it in me to spend the next six weeks slicing and dicing stats to compare him to Saquon Barkley and Bryce Love.
* My "I cannot possibly care about this award" moment was when Ndamukong Suh, one of the most dominant players I've ever seen in any sport, lost to Mark Ingram, who was a fine running back but come on. If that wasn't enough, Jabrill Peppers somehow finishing fifth last year because he scored a rushing touchdown versus Rutgers should have been the final shovel of dirt on this award's credibility.
What does interest me is making the Heisman race weird, and I have an idea about how to go about it. Adams has a chance to slip by Barkley — it would involve Barkley being bottled up by both Ohio State and Michigan State while Adams flirted with 200 yards per game the rest of the way – but it's going to be tough as ESPN has all of the SBNation employees who wrote 4-8 jokes on loan to create Barkley content. (And this isn't a slight to Barkley, who also seems like a good dude. Much like Darnold, he received an offseason ordainment and has to live with opposing fans hating him because of a hype machine he fuels simply by trying to be good at the sport he plays.) But what if Barkley didn't have to hold off Adams, but instead had to deal with Quenton Nelson?
Hear me out: Notre Dame should immediately make a Quenton Nelson For Heisman site. There are so many rushing stats to point to that demonstrate his dominance, but more importantly there's the potential for a cavalcade of GIFable highlights to spread across social media, along with the screen grabs of giant holes courtesy of the Irish captain. Get impossibly earnest testimonials from all the running backs on the team about how much they love running behind him, plus quotes from his fellow offensive linemen and NFL draft types. (I miss you, Mike Mayock.) Play up the legacy of the trophy— John Heisman played offensive line, you know! — and make this less of a competition with Barkley and more of a referendum on the award itself. Why can't linemen win it? Or wide receivers or linebackers? Why shouldn't Nelson, the best part of one of the best offenses in football and a likely high pick in the NFL draft, be able to take this thing home? We're just asking questions, after all! He will not win, but it would be so fun to elevate him over the month of November, guarantee his unanimous All-American status and screwing with the system a bit. (It also probably wouldn't hurt with recruiting top linemen. Showing them Zack Martin's Pinstripe Bowl MVP trophy – never forget — and the campaign for Nelson is a pretty fun angle.)
In conclusion: Adams and Barkley are both great and there's a tiny chance the former could usurp the latter, but keeping track of yards per carry will not be nearly as interesting as a giant Pancake Counter that's updated over the rest of the season.
11) Winning Is Hard/Schadenfreude Round-Up: Well, Michigan lost again. Jim Harbaugh is 6-5 in his last eleven and winless against teams that are over .500 during that stretch. They weren't expected to win in State College but the spread was 10 and Penn State won by 30, so that's not ideal. The Big Ten is so soft their floor is probably 8-4, maybe 7-5 at worst, but it'll be a toothless record unless they can upset Wisconsin or Ohio State. Anyway, congrats to the Wolverines for being tied with Rutgers for fourth place in the Big Ten East, which is what you expect when you pay 9 million a year. Some smart people have pointed out that Michigan will probably be a lot better next year and my counterpoint would be they are pretty crappy this year and that rules.
Florida State lost again, too, falling to 2-4 on the season with those two victories being one-score wins against Wake Forest and Duke. Jimbo Fisher got in an altercation with a fan after the game, if you want to play "Imagine if Brian Kelly did this." Colorado lost again, too, falling 28-0 at Washington State. That's bad for both your point differential, record and computer ranking (87th in the S&P+!), and everyone who suggested Notre Dame fire Kelly in order to hire a guy with two (2) winning seasons in his career should do some sort of public apology.
Kind of a quiet weekend, really. Oklahoma almost lost to Kansas State but didn't. Oklahoma State survived at Texas when big-game wizard Tom Herman's quarterback threw one of the worst picks you'll ever see in overtime. Michigan State almost lost to Indiana but didn't. Miami was in a dogfight with Syracuse but survived. Oregon lost to a moribund UCLA team, which must put the Ducks six feet under. Boston College is good now, apparently, putting up their second straight ACC road win against a solid Virginia squad. Weird sport.
12) I still can't quite wrap my head around how perfect that was Saturday night. The possibility of doing something like that to the Trojans lingered in the dark corners of the mind I try to keep quarantined for sanity's sake, but I didn't think it could actually happen. During the four years I was on campus USC beat Notre Dame by an average of 23 points per game — a seemingly endless wave of blowouts mixed just enough casual heartbreak to keep it interesting — but now we have our own blowout: 49-14 over a preseason title favorite helmed by a preseason Heisman favorite where the Irish pulled their starters early in the fourth quarter because they were winning by so much. Notre Dame is really, really good, and they have a chance to earn the classification of great if they can deftly navigate these next five obstacles.
Sure, worry about the games with NC State, Wake, Miami and Stanford because they're good teams and good teams can always beat other good teams, but I don't think you have to worry about Notre Dame. We all know the myriad reasons behind 4-8, but that's dead now, long gone and buried through the commitment of everyone involved with the program. We're back on track and it's exhilarating, and for a while, at least, there are no more referendums and no more hot seats, just a bunch of very talented football players looking to beat the hell out of the opposition and write their names in the history books. Let's savor every single second of them attempting this noble mission. NC State is going to be a challenge, for sure, but you now bet against the Irish at your own risk.
13) Oh, and before we go, I would be remiss to end this without offering congratulations to Henry Neville Joyce, whose lifetime of supporting the Irish got off to about the best start imaginable. Here's hoping it's a long while before he sees his first loss. Additionally, a hearty thank you to NDMSPaint for the art at the top, which I love very much. And thanks to all of you for reading and sharing, it is so very much appreciated.