Rakes Report #28: Live from South Bend it's Saturday night (The Southern Cal Review)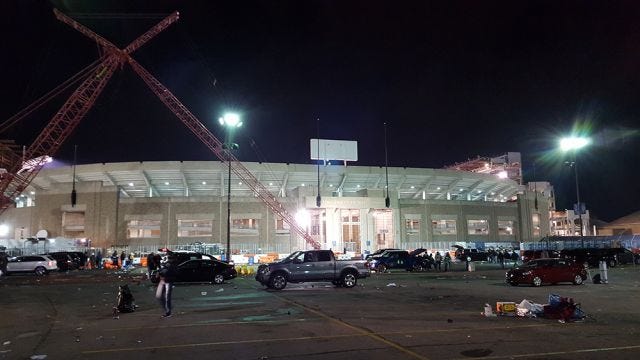 1) When digging around for the Southern Cal preview, I discovered the concept of the Trojans' Perfect Day. On their Wikipedia page there is a section collecting every time USC wins on the same day that Notre Dame and UCLA lose. I thought this was a fun, schadenfreude-fueled concept and realized that a Perfect Day for the Irish would probably be a win coupled with losses by USC and Michigan. The Most Perfect Day for the Irish would be a win over the Trojans coupled with Michigan losing in a way that was so insanely heartbreaking no one would ever forget it for as long as they play football.
Saturday was The Most Perfect Day.
2) It felt very, very far from perfect during much of the game, particularly in the stretch spanning the final five minutes of the second quarter through the start of the fourth quarter. A USC team that was on the ropes leaned on their five-star receivers to spring big plays while the Notre Dame offense bogged down, a 24-10 lead flipping to a 31-24 deficit in uncomfortably quick fashion. The Stadium was dead quiet and it felt like we might be looking at a repeat of the 1974 edition of this rivalry, where USC turned a 24-0 hole into a 55-24 win on the back of Anthony Davis.
But then DeShone Kizer, still searching for a moment that's too big for him to handle, made another game-saving play. The redshirt freshman kept the ball on a third and five and rumbled 28 yards up the middle of the field, somersaulting his way to a first down. (Note to Kizer: Please don't do any more flips in the open field.) Kizer followed that up by targeting Will Fuller for consecutive defensive pass interference calls, then C.J. Prosise found a Super Star and banged his way in for the tying score. When you consider where Fuller and Prosise came from (three-star prospects, with Prosise brought in as a safety) and where they are now (among the best in the country at their respective positions), it's kind of ridiculous. Oh, and the redshirt freshman distributing the ball to them? He's up to 16th in the country in passer rating.
The Irish defense ceded the advantage back to USC, giving up a 28-yard reception, but buckled down by forcing an incompletion, stopping a run for zero gain and sacking Cody Kessler. For all of their woes — and there were many — over the final 25 minutes of the game Notre Dame allowed zero points, picked the ball off twice and held the Trojans to 25 rushing yards on 14 carries. That's pretty good.
3) Then consider where the go-ahead touchdown came from: Corey Robinson, who has been carrying around the "much-maligned" epithet for most of the season. Robinson took advantage of single coverage to bring in a beautiful diving catch, giving the Irish a lead they would never relinquish. Robinson's postgame quote was awful nice and gives you an idea of how things are functioning inside the locker room:
"The team was great these past couple weeks. All of them showed they had the utmost confidence in me. You know, as a player, that means a lot, to know that all of your teammates, you know even from the defensive side, you know, quarterbacks, coaching staff, everyone has confidence in you."
4) I just want to spend a bit of time talking about Fuller, who could conceivably be arrested for arson after what he did to Adoree' Jackson on Saturday night. Jackson is a world-class athlete playing a multitude of roles who had deserved profile after deserved profile written about him all offseason long. On Saturday night he forced a fumble and housed an 83-yard touchdown, but he also got absolutely torched by Fuller on three separate occasions. Notre Dame's Biletnikoff candidate went off against Jackson for a 75-yard score on the Irish's first play, a pass interference call to set up the game-tying touchdown and a 45-yard gain to help set up the final three points of the contest. If you have Mackensie Alexander and a monsoon, you can slow down Fuller. Otherwise? Good luck.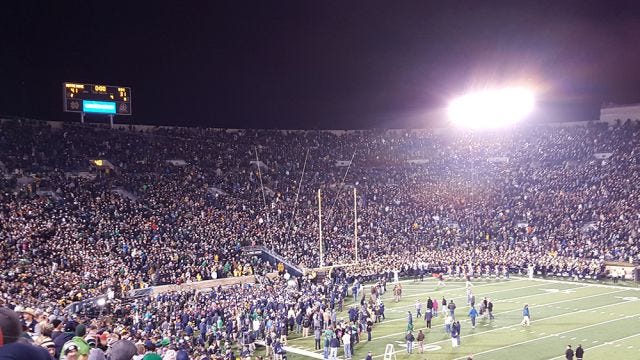 5) At this point I'm going to point out what Notre Dame's defensive numbers would be if they didn't allow the handful of big plays every single game, but I think it's safe to say we can't expect them to stop happening. Whether it's scheme, talent limitations in certain areas, poor tackling or the more-likely combination of the three, teams are going to pop a few monster gains against Notre Dame. USC had 590 yards on 77 plays, good for a 7.7 yard per play average. If you take out the trio of big plays that scored or set up USC's final three touchdowns, that number drops down to 74 plays for 367, or a much milder 4.9 yards per snap. (If you were curious, the Irish averaged 7.9 yards per play on Saturday evening.)
If the Irish are going to give up big plays, it helps to make a few of their own, which they did in the final quarter. Isaac Rochell and Romeo Okwara both dragged down Kessler for a sack while KeIVarae Russell and Max Redfield both picked him off over the final fifteen minutes. The Russell pick happened right in front of me and was one of the most bad-ass things I've seen on a football field, as he stayed in JuJu Smith's hip pocket stride-for-stride then elevated over him to just take the ball away because he wanted it. I mean, look at this. You may remember that against USC in 2012, freshman Russell ran down a long bomb to Marqise Lee for a pick. Russell versus probable first rounder Tyler Boyd at Heinz Field in a few weeks will be something to watch.
6) Redfield missed on some tackles early in the game and found himself replaced by a not particularly effective Matthias Farley for stretches, but he really closed things out strongly. The pick was in addition to a couple nice violent stops underneath on the final drive. (I think he also accidentally rang Elijah Shumate's bell late in the game when they converged on a Trojan.) Between the late plays against USC and the 14 tackles against Clemson, I'm hoping things have finally clicked for the five-star safety. This team has proven it can win without strong play from that position, but things would be considerably easier if things improved.
7) Joe Schmidt had another rough game, and it now becomes a question of whether the guys behind him just aren't ready or if Schmidt is simply so beloved by his coaches and teammates that they aren't willing to bench him. The senior captain seems like a guy whose voice needs to be in the mix, especially if he's going to be giving post-game quotes like this:
"This is a game that I have imagined since I was five. Playing catch with dad in the front yard, the lights are on; it's a nighttime game. You imagine what the crowd looked like, what the little cardinal and gold helmets looked like, and it's even better in person than it was in the dream. To get a victory like this over an incredibly talented USC team with so much firepower and so many reasons to fight right now -- it feels so good to come out with a victory. It might not have been the cleanest, it might not have been the prettiest, but, dang, we were gritty and passionate and we played with love for each other. I'm proud of this team."
How do you bench a guy who says stuff like that? He represents everything the staff wants its players to be as human beings, and it's understandable why they're hesitant to sit him unless the replacement is clearly going to be better. The whole defensive unit might have an easier time after the bye, as here are the S&P+ offensive rankings for Notre Dame's next four opponents:
Temple: 89th
Pitt: 56th
Wake Forest: 104th
Boston College: 115th
For some context, USC is 5th, Notre Dame 6th, Clemson 13th and Stanford 10th. With a bye week to get healthy and some less imposing offenses on the other side of the break, it would be nice to see some continued progress or perhaps the development of a nickel package, which has essentially been abandoned after the defensive back corps was hit hard by injuries (Drue Tranquill, Shaun Crawford, Avery Sebastian) or apparent ineffectiveness (everybody else). The Irish survived keeping three linebackers on the field against the Trojans and I doubt anyone left on the schedule will be able to take better advantage of that defensive look than USC, but it would still be nice to have some flexibility.
An additional defensive note: While the Irish notched just those two sacks against the Trojans, they did manage eight additional quarterback hurries, which helps the cause.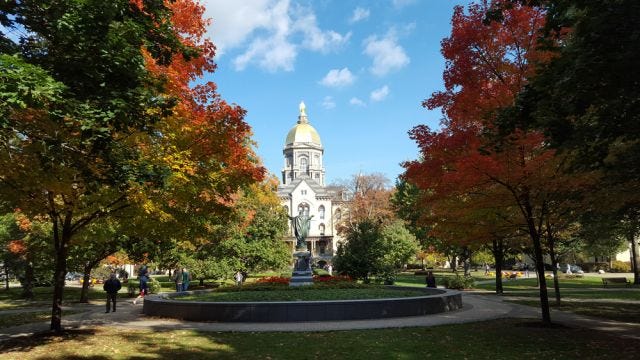 8) Special teams! Blocked punt for a touchdown. Two more made field goals by Justin Yoon, who hasn't missed a three-pointer since the trip to Charlottesville. A beautiful punt from Tyler Newsome downed just outside the USC goal line by Devin Butler to seal the game. Some nice returns by C.J. Sanders. Not allowing Adoree' Jackson to break anything longer than 33 yards on a kickoff. A pair of quality quick kicks and continued competence in the holding department by Kizer. Kelly's special teams have been criticized over the years, but the unit has been really strong as a whole this season.
(After some talk of "Brian Kelly teams always turn the ball over in big games" after the Clemson loss, a reminder that Notre Dame won the turnover battle two to one Saturday night, although that one was brutal, a fumble at the goal line by Torii Hunter going in for a score that would have made it 28-10 and possibly made the Trojans pack it in early. Additional note for the final five to seven games of the season: Please stop fumbling at the goal line. It is bad.)
9) A return to everyone's favorite September section of the Report: Left guard Alex Bars is done for the season with a broken ankle. Hopefully the week off gets Quenton Nelson back to full health, but it sucks to see Bars go down. Bars is pegged as a likely heir to Ronnie Stanley at tackle next year and would be best-served getting a full season worth of reps, even if it's in a reserve role, but the injury gods require their sacrifices for victory. Famous last words, but: The quarterback and offensive line seem like they're going to be in very good shape the next few years.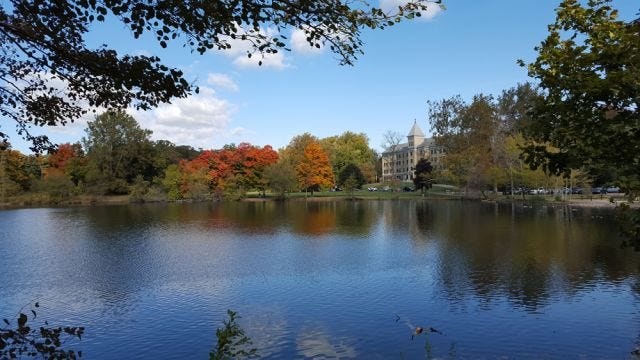 10) In two of the three Trojan losses, Kessler has put on a pair of completely uninspiring hurry-up drills. Down ten points with 3:35 remaining, the Trojans burned all of the remaining time from the clock and made it only 58 yards, barely crossing into Irish territory and wasting time with a bevy of checkdowns. Against Stanford, the Trojans again trailed by ten points and got the ball back with 2:27 remaining. They used up all but four seconds of that to move the ball 52 yards before turning it over on downs. I understand that defenses are taking away deep plays in those situations, but you have to take a few more shots. I've been bearish on Kessler for a while, and despite some nice plays on Saturday night, I feel pretty justified in some of my criticisms.
Su'a Cravens, however, was as advertised. He was a complete terror to block and then managed to win my heart over more by saying "This is probably the greatest college football rivalry of all time" after the game. Cravens is eligible for next spring's draft and I pray he has just played in his final game against the Irish. Unfortunately we'll be seeing JuJu and Adoree' at least one more time.
11) The crowd was great early and late for the Irish, with an understandable lull when things started to collapse. Things didn't really get that chilly in the Stadium until the second half, and the tailgating was actually pretty comfortable a lot of the day as the sun made its way out. (Note: Alcohol may have played a role in this.) (Additional note: Thank you to everyone who said nice things about the Report over the weekend, it is really appreciated.) I also love that we live in a world where "Playing 'Crazy Train' at Notre Dame Stadium against USC" means absolutely nothing to 99.9% of the population but everything to a select few.

It's odd that Saturday night was the penultimate home game of the season, with three road games and the Shamrock Series still left on the slate in addition to senior day versus Wake Forest, but so it goes. If you want to take a peek ahead to next season, the Irish will be hosting Michigan State, Stanford, Miami and Virginia Tech in addition to Duke and Nevada. Pretty healthy slate.

12) Notre Dame has now won four of the last six against USC, including three of the last four. They are not a perfect team and they're as close to 5-2 as they are 7-0, but it is an easy team to love. The defense has been razed repeatedly this season only to rise up and get stops when they need to, while the quarterback who was third-string all spring long continues to make big play after big play, aided by the running back who was converted from wide receiver after he was converted from defensive back. None of it really makes sense and the Clemson loss still hurts, but 6-1 is pretty damn good, even if we know from last year that achieving that mark guarantees nothing.
The rest of the schedule isn't easy, but it's surmountable. Temple and Pitt are both tough as nails, they'll both be playing at home in their biggest games of the season and both of their homes happen to be sterile NFL stadiums that always make for miserable road experiences. And looming at the end of November is a trip to Stanford, who some newsletter authors may have been a little too quick to bury after their opening weekend struggles. This bye week is a chance to kick back, get healthy, and hope for a little bit of chaos in front of us, but it's also important to take a breath and assess where we stand. Winning is hard, and Notre Dame keeps doing it. Not all of these games have been beauties but six of the seven have been all right, and that's certainly all right with me.

~
Did you enjoy this? Consider forwarding it to a friend or sharing the subscription link on a social media platform of your choosing.
Did you not enjoy it? Let me know your thoughts. Reply to this e-mail or hit me up on Twitter @rakesofmallow.